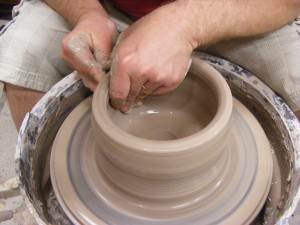 Try-It Pottery Book up Quickley Classes or Group Events ~ are scheduled on Monday or Saturdays. ( Fall, Winter and Spring.) Like our FB page to get first notice of Try-It Pottery & Date Night Pottery event postings.
Always thought that it looked like fun to throw clay on the potter's wheel? Here's your chance to just try it, a one-time 2 hour session giving the wheel a spin. You get a quick introduction to wheel throwing …then you try it. We supply materials, basic instruction and hands-on assistance. You'll get a feel for the clay and discover the magic of making functional objects on the potter's wheel. This is a great class for the curious, a night out experience or just want to check pottery off the bucket list! No experience required. We provide the clay and tools. The only thing you need to do is wear clothes that you don't mind getting messy..
Classes… are 2 hours long including demonstration time and hands on the wheel, comes with 5 lbs. of clay to play with, all the tools of the trade.
You'll end up with a pot that will be glazed and fired for you to remember the experience. Most any of your additional pots can be glazed for a fee due on ordering. All pots are to be picked up at a later date.
"Try-It Pottery" Classes or Group Events ~ are scheduled on Monday or Saturdays. Prior register is required.
CLASS STRUCTURE VARY by date Group Events must register by appointment for a group of 8 people.
Click here to Register and see class dates.