WNY's Premier Pottery Classes, Clay Supplies & Pottery Studio. Located minutes from Buffalo NY Established in 1999 by Thomas Hooper
5701 Main Street • Williamsville, New York 14221 • (716) 634-0989
Artyard Studio has been providing a place where you and your children can explore many aspects of art and the creative process. We offer a variety of classes from which you may select. The studio is located just minutes from Buffalo, N.Y., on an historic property in the Village of Williamsville. The building, a turn of the century machine shop, was transformed nearly a century later into the private production studio of Thom Hooper, and into Artyard Studio classrooms.  The circa 1861 home at the front of the property houses Thom's  wife's shop, The Village Nail Boutique & Gifts, where his pottery and other handcrafted items are available.  Along with Classes, Camps, and Special Workshops we have a Pottery Gift
shop, and  Studio Supplies available for all WNY Potters and enthusiasts
.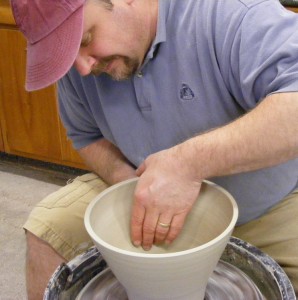 Imagine a place… that blends artist studio, a week at camp, and maybe a dash of encounter group and you'll get a sense of the Artyard Studio Pottery experience. For many long-time students, Artyard Studio Pottery is their personal clay studio — a place to enjoy the clay, meet interesting people and observe the miracle of turning mud into functional objects.
What to Expect
Our studio specializes in teaching wheel-thrown pottery and offers instruction for all levels of experience. Classes are
informal and are kept small to guarantee a wheel for every student. Each class is one-and-a-half to three hours long.
Beginners get grounding in pottery fundamentals. They learn how to center a mound of clay,  how to throw, trim and glaze their pots. Generally, after one six week session, they can make mugs, bowls, and other basic forms.
Intermediate and advanced students work on refining skills and glazing techniques. They learn how to make larger and more complex forms, and explore methods for altering thrown pots to create vases, lidded pots and other shapes.
Winter 2015 Open
Hours)
Tues. – Thurs.  6pm-9pm
Tues. Wed,Thurs  10am-3pm
Saturday 11am- 5pm